Frequently asked questions
What is Steel Mace?
---
When you work out with LifeX Athletics Steel Mace you will discover the ultimate functional training method. Steel Mace Training improves sports performance like no other exercise tools. Functional training utilizes single leg and arm movements, demanding balance to properly develop muscles.
---
What is Mace Training?
---
Mace Training, inspired by the ancient Persian warrior elite, is an improvement on the sledgehammer that is believed to be a more effective way to build core and rotational strength. Read More at ASK MEN
---
What is Indian Club Training?
---
Indian clubs which originated in the Indian subcontinent are a type of exercise equipment used to present resistance in movement to develop strength and mobility. They consist of bowling-pin shaped wooden clubs of varying sizes and weights, which are swung in certain patterns as part of a strength exercise program.
---
Does Steel Mace Come Unscrewed During Training
---
No it doesn't. The same forces that keep you lugnuts from coming unscrewed on your car are the same that keep this together.
---
What are the Benefits of Steel Mace Training
---
Check out this video by Coach Vaughn on Steel Mace Training and remember we offer 10% Coach Vaugn's Training Program with the purchase of our full set.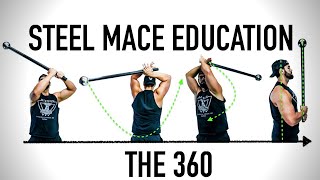 ---
---